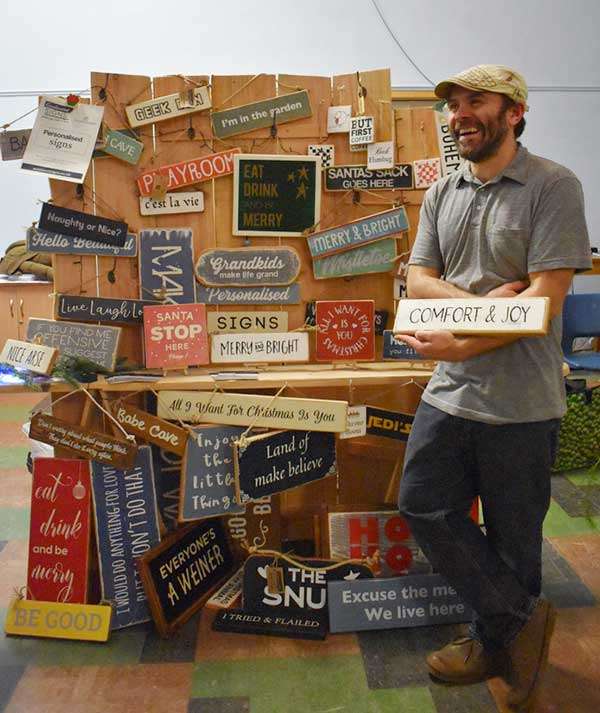 Based in the rolling hills of the Devon countryside. I started up Sentiment Signs in 2010 after working with a local sign company for a number of years doing shop fronts and vehicle graphics.  But there was a traditional side, and a niche I was interested in pursuing myself and that was wooden signs.
My aim is to produce the best quality rustic, painted, and shabby chic signs wooden signs available, with a genuine unique charm and handmade feel.
I have a background in Graphic Design, so I am comfortable designing and love creating bespoke signs for my customers.
I sell to people looking for gifts for their loved ones and families.
Sentiment Signs can make you a sign for any occasion, be it valentines day, birthday's or Christmas. I've made one or two for marriage proposals as well! Beautiful signs as accessories for wedding venues are often requested, a free quote and mock up will be given for any enquiries.
I also supply signs to hotels, guest houses, and have even made  signs for events such as go-karting races and a fashion show! 
I am continually striving to make production entirely sustainable. All timber is from FSC approved sources, supplied from my local sawmill.
The paints and varnishes I use are low in VOC, or indeed VOC free.
What kind of wood do you use to make signs?
Many types of wood are suitable for use in making signs, but it is important to use wood that is durable and resistant to rot if the sign is to be placed outside.
1. Douglas Fir
Douglas Fir is an evergreen tree from the pine family of conifers and is commonly grown for use as timber, and is perfectly suited for making wooden signs. It is strong, hard, and durable. With a good resistance to water. Its appearance is usually light brown and yellow, with straight, occasionally slightly wavy grain and darker knots. If the timber is painted and/or varnished it will last for many years outside.
2. Plywood
Plywood is an affordable option for larger signs, and its smooth finish allows for a crisp appearance for the lettering when applied.
Exterior plywood is glued together with a waterproof adhesive that prevents separation in wet weather. Painting and varnishing the plywood will increase its longevity outside.
If expense is not an issue then Marine grade plywood is especially good for external use as it hints in the name. It is designed to withstand salt water and continuous moisture exposure.
3. Oak
Oak is a traditional wood used for exterior signs. English Oak is durable, very hard, and heavy. It will require maintenance but should last a lifetime if looked after. Oak timber often contains beautiful texture, burrs, and movement in the grain.
4. Cedar
Cedar is ideal wood for use in signs. It is very durable and naturally resistant to rot. It is lightweight, and easy to work with.
It usually has a lovely rich reddish colouring and sweeping grain. Left to the elements it transforms into a grey silver colour.
How do you weatherproof wooden signs?
1. Sanding
Prepare the wood by sanding it down. This will eliminate any uneven strands and reduce water retention, smoothing and uncovering the natural beauty of the grain.
2. Wood Primer Paint
Once the wood is thoroughly dried out, apply a coat of wood primer. This will seal the timbers surface and ensure surface paints do not absorb into the wood too much. Water based primers are preferable because of their low VOC content. This primer coat will allow for proper adhesion of the top coat. Lightly sand the primer coat once dry to make it smooth.
3. Exterior wood paint
Apply several coats of wood paint with either a brush or roller. There are numerous brands of paint available, but it is important that it is only applied once the primer coat is fully cured.
3. Varnish
A polyurethane water or solvent-based varnish is used to seal the surface from moisture and UV light from the sun. If varnish is used directly to the bare timber its grain is enhanced and the natural beauty of the wood shows through.
Alternatively various oils such as teak, danish, and tung can be used on bare wood. This is especially good at nourishing the wood naturally and bringing it 'back to life'.
4. Wood Stain
Wood stain can also be used on bare timber to dull or brighten the tone of the timber, it is often possible to find stains that combine colour, preservative and protection in one tin.